Do like 10,000+ satisfied course participants -
increase your chances of getting your dream job by taking my E-COURSE:
for Job Seekers
START HERE
Would you like to:
➔ Find your dream job quickly?
➔ Write CVs and application letters that stand out?
➔ Halve your job search time?
And not least - stop fighting to get a new exciting job?
I'm so glad you're here. For more than 25+ years, I have dedicated my working life to supporting others in getting the right job - not just a job. Now it's your turn!
But how are you going to find your dream job when there is so much competition on the labor market?
It's actually a lot easier than you think. Through the inspiring course "BECOMING A SUCCESSFUL JOB SEEKER" you will learn to use proven methods and strategies that really give quick RESULTS. The toolbox in the course is different from any other job search method you've used before. 
Below you can see what is included:
01.
Experienced course leader
You are encouraged by Charlotte Hågård, Career & LinkedIn expert who has coached 10,000+ people for 25+ years.
02.
Smart tips & models
You get lots of unique tips and tools for your job search and personal marketing.
03.
Access for 180 days
You have access to the course for 180 days and can do it at your own pace and when it suits you.
04.
12 practical workbooks
You will find lots of tips, templates, checklists and exercises in the included workbooks.
05.
12 instructive video lessons
You learn and get inspiration via recorded video lessons that you can watch as many times as you want.
06.
Exclusive Facebook group
You get help and inspiration in our Facebook community where we help each other to success.
A little more information about me, Charlotte Hågård, your course leader.
Career developer who has coached over 10,000+ people at all levels, industries and roles
Author of nine career books, including the CV book which sold 100,000+ copies.
LinkedIn & CV expert, who has read 25,000+ LinkedIn profiles, CVs and letters.
Pioneer in career development in Sweden already in 1992.
Method developer of lots of popular tools and work materials in the career field (including the INSIDE-OUT-FORWARD® model).
A sought-after lecturer who has held 2500+ courses, lectures and webinars, within and outside of Sweden.
MOTTO: Life is too short to be bored at work. Invest in a career you love!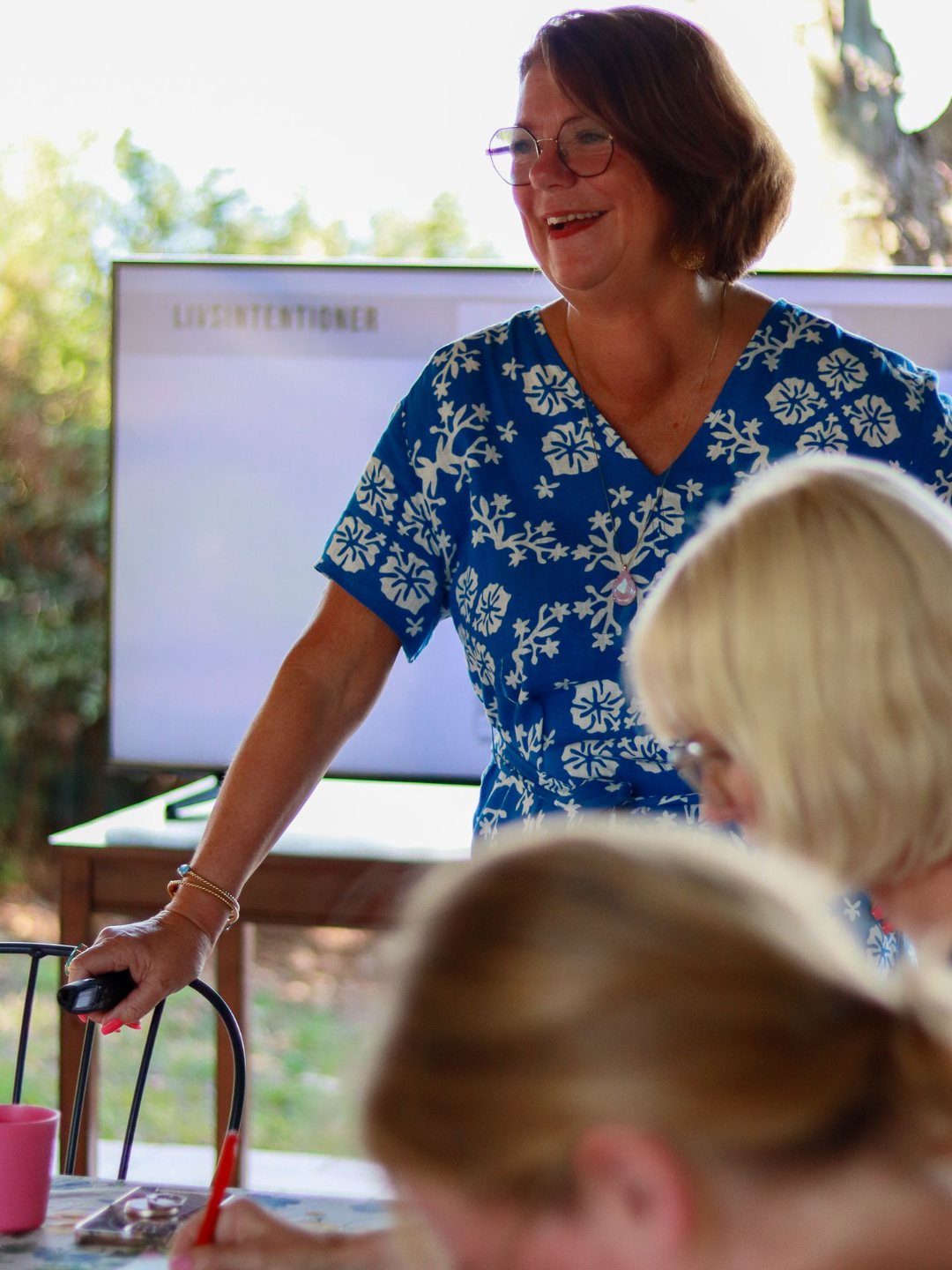 Do you want to know why most job seekers are NOT successful in getting a new job?
Some common mistakes job seekers make:
➔ Lost motivation - ENERGY LEAKAGE!
➔ Poor self-awareness - UNCLEAR!
➔ Unclear goals - UNFOCUSED job search!
➔ Inefficient planning – takes too LONG!
➔ Difficult to write a CV - boring impression where nothing STAKES OUT!
➔ Uninteresting Application Letters – tell the WRONG THINGS!
➔ Incomplete LINKEDIN PROFILE - doesn't show WHAT you can or want!
➔ Only search by ad - compete with 100's of others!
➔ Not networking - missing the OPPORTUNITY for important help!
➔ Poorly PREPARED for the job interview!
In the course, you learn how to succeed as a job seeker by:
➔ Keep the MOTIVATION up and don't lose focus!
➔ Get a good SELF INSIGHT so you know what you can and want!
➔ Set a clear JOB GOAL that will take you where you want to go!
➔ Create an effective JOB SEARCH PLAN that produces results!
➔ Write CVs and cover letters that stand out!
➔ Boost your LINKEDIN PROFILE with the right keywords!
➔ Use 20 smart JOB SEARCH METHODS!
➔ Become an active NETWORKER who gets help from others!
➔Succeed at the INTERVIEW through professional preparation!
➔ Use LinkedIn smartly to find jobs and assignments!
Here are some voices from previous course participants...
Over 10,000 people have taken the e-course, many with fantastic results that really stand out. Here you can read what some of my customers say about the e-course:
Anna-Lill Sjögren,
Administrator
"I've dared to write more LinkedIn posts and one has 37,000 views in 3 weeks. I have received over 100 new contact requests - an increase of 30% "!
Andreas Savhammar
IT Manager
"After following the course, I have received more page views and more contact requests. Good setup with clear films. "
Lina Larsson
Marketing Economist & Office Coordinator
"Charlotte has a voice and a tempo that you like to listen to. The course is good. The combination of video, workbooks and self-writing answers to papers has helped me to structure. I am very satisfied with the education. "
Think how wonderful - after the course you will...
Feel inspiration, energy and joy to take on your exciting future.
Have good self-awareness and self-confidence.
Know what you want and have clear goals for your career and job search.
Market yourself simply and clearly and show the value you add.
Use an effective plan to land your dream job/assignment in the shortest possible time.
Have professional resumes, letters and LinkedIn profiles that are cohesive and stand out.
Know 20 different ways to search for jobs and assignments and know how to find hidden jobs.
Build a network that will help you succeed.
Have the courage to go outside your comfort zone and dare to try new paths!
Let's take a look at what is included in the course
The course consists of 12 structured modules that you can follow step by step. You can also jump directly into the modules you are curious about. Each module consists of a video lesson and a workbook with various tips, exercises and checklists.
When you log in to your course, you have access to all the material immediately, which is valid for 180 days from ordering. Super simple and flexible - and you can do the course whenever you want 24/7.
Read more below about each course module.
Module 1: Keep your MOTIVATION up
Module 2: Get to know yourself through SELF ASSESSMENT
Module 3: Set clear CAREER & JOB GOALS
Module 4: Make a smart JOB SEARCH PLAN
Module 5: Stanad out with a PROFESSIONAL CV/RESUME
Module 6: Spark nterest with your COVER LETTER
Modul 7: Boost your LINKEDIN-PROFILE
Module 8: Learn 20 ways to LOOK FOR A JOB
Module 9: Become a successful NETWORKER
Module 10: Use INFORMATIONAL INTERVIEWS
Module 11: Use LINKEDIN for job searching
Module 12: Succeed in the JOB INTERVIEW
All this is included in your course "Become a successful job seeker"
3995 kr
One-time payment
In the course you get:
1. 12 educational VIDEO LESSONS - each video is between 8 and 25 minutes, approx. 3 hours in total (value SEK 5,000)
2. 12 WORKBOOKS with lots of exercises, checklists and templates (value SEK 2500)
3. MEMBERSHIP in our Exclusive Facebook community (value SEK 1200)
4. BONUS! Discount on review of your CV, letter and LinkedIn profile (value SEK 1,500)
5. BONUS! Discount code for Personal coaching (value SEK 300)
Total value = SEK 10,500 - including VAT
Ps. Now the online course is in Swedish and we are launching the English one soon, stay tuned with our newsletter in the footer if you need it in English.
Yes, book the course now
How do I get access to the course and all materials?
Do you have to apply for a job to benefit from the course?
What do I do if I'm not on Facebook?
Can I invite others to the course?
How do I fill in the work material without a printer?
How do I fill in the work material without a printer?v
Are you ready to become a successful job seeker and get the career and life you want?
Achieving success in working life is not only about having a good CV, but also about having a clear goal and working with things that give meaning and stimulation.
In this course, you will learn a lot of good things that you will benefit from, not only on the way to your next job or assignment, but throughout your journey in working life.
See you there!
Ps. Now the online course is in Swedish and we are launching the English one soon, stay tuned with our newsletter in the footer if you need it in English.
Yes, book the course now!
CONTACT
I am looking forward to communicating with you. Please send me a message here>>
or email me directly: 
[email protected]
JOIN MY FREE NEWSLETTER
My FREE Newsletter is full of inspirational tips, invitations to events/retreats, and news about upcoming projects.
As a gift for subscribing, you'll receive my FREE LinkedIn Guide - HOW TO AVOID THE 12 MOST COMMON MISTAKES ON LINKEDIN. SIGN-UP HERE: