Now the LinkedIn Guide is in your E-mail!
Do like 10,000+ satisfied course participants - increase your chances of being found by new customers around the clock by taking my E-COURSE:
START NOW
Sharpen your profile and presence on LinkedIn!
Being active and having an interesting LinkedIn profile is today an important tool for you and your company. This course will help you build and communicate your personal brand and make a professional LinkedIn profile that STANDS OUT and leads to results.
In the course, you get all the tools you need to build a professional LinkedIn profile with interesting content. 10,000+ people have already taken the course and the results are amazing. More profile visitors, job & assignment offers, networking requests and more customers and business!
Let me help you succeed too!
In this course you get everything you need to stand out and succeed on LinkedIn!
When you take my digital training, you get:
01.
Videolectures
You learn via 23 short video lessons of 8-18 minutes each, where you get lots of inspiration and practical tips that you can use right away. (about 4 hours of video in total)
02.
Workbooks  & Checklists
You get 18 inspiring Workbooks and Checklists with lots of concrete tips and exercises that create order and structure in your work.
03.
Community​
You become part of our community via a unique Facebook group. Here you ask questions, get tips and personal coaching via our live meetings and networks.
Create a POSITIVE first impression
Your LinkedIn profile is often the first impression someone gets of you. To succeed, you need a clear goal and a well-thought-out common thread in the profile. In the course, you get all the tools to build your personal brand.
In the course you will learn, among other things:
Build the profile based on your goal and target group
Use the right structure, language and tone in your texts
Create a common thread and uniformity
Give a positive first impression and a professional overall impression
Which KEYWORDS you must include in order to be found
Use the photo, background photo and other images to strengthen your brand
Create an interesting professional headline, About section and presentation of your experience
Highlight your skills and achievements in the right way in different parts of the profile
Build your network the right way with the right people
Get active and get results by sharing your knowledge via posts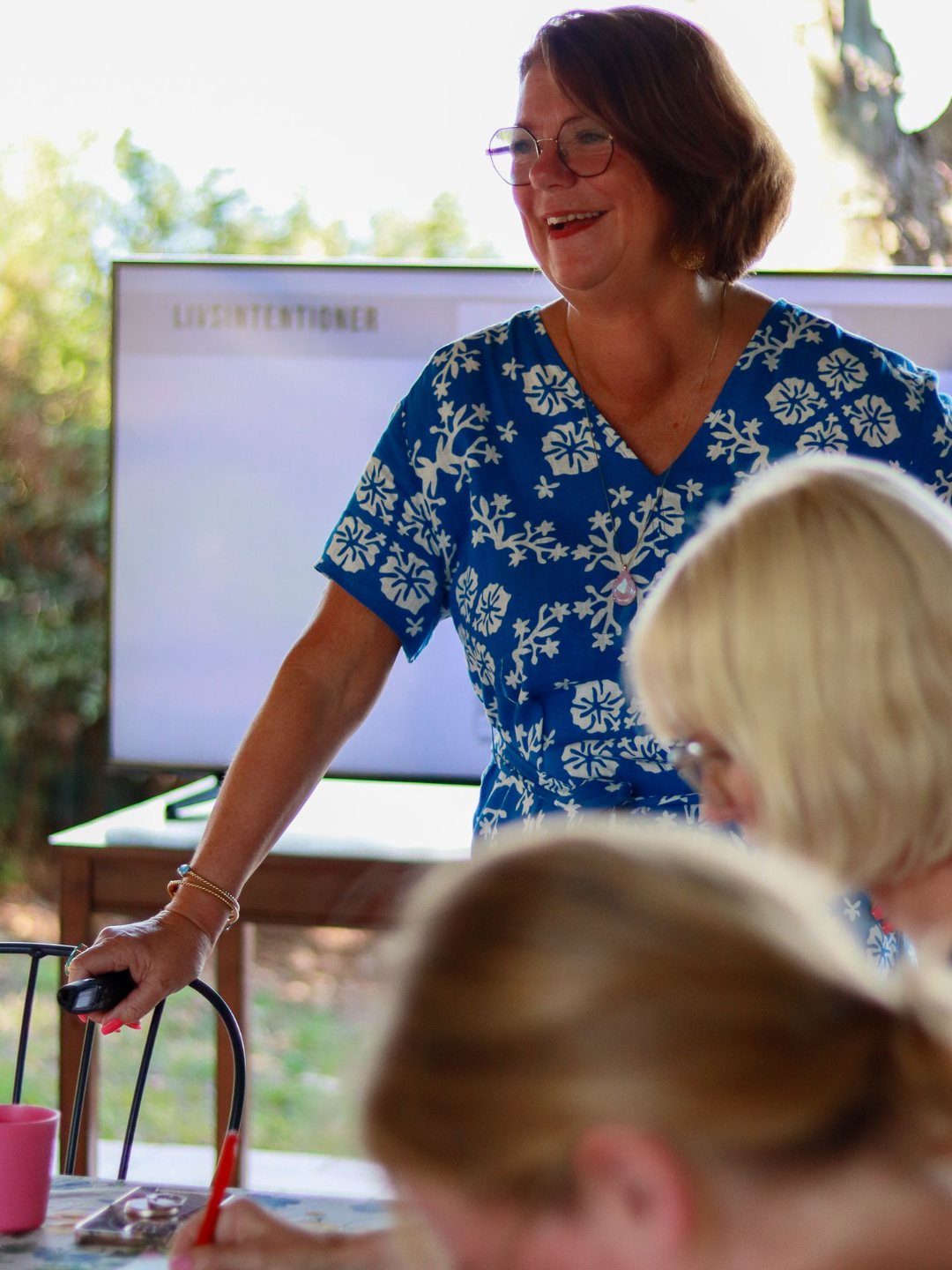 Fantastic results with our participants
Get new assignments quickly with a professional and keyword-optimized profile
Found by new customers and recruiters with the right keywords in place
Received praise for my profile being well structured and interesting
Contacted by more clients with requests for new assignments
Received several new board assignments
Increased my revenue by 100% in one year with new leads from LinkedIn
Feel proud and satisfied to have a nice and impressive digital business card when others look up online
Course content
Here is the content we cover in the course. You get lots of practical and concrete tips and exercises in a step-by-step format.
Course introduction. Here are the tips that will help you get through the course in the best way and get the most out of your effort.
01.
Varför ska du vara på LinkedIn idag?
LinkedIn har blivit ett viktigt karriär- & affärsverktyg. Vi går igenom varför och fördelarna för dig.
02.
Förbered dig med 6 framgångsstrategier
För att lyckas får du hjälp att tydliggöra dina mål, målgrupp, sökord, story, plats och rätt sekretessinställningar.
03.
Skapa din LinkedIn-profil i 12 steg
Genom att följa de 12 stegen fyller du enkelt din profil med ett intresseväckande och relevant innehåll.
04.
Specialtips 
Du får skräddarsydda tips för dig som företagare och även som chef. 
WHAT DO OUR COURSE PARTICIPANTS SAY?
Over 10,000 people have taken the e-course, many with fantastic results that really stand out. Here you can read what some of my customers say about the e-course:
Sara N Lennqvist, entreprenör

"Jag har gått Charlottes kurs "Bli en stjärna på LinkedIn" och jag har bara en sak att säga: WOW!! Jag har aldrig sett en så väl uppbyggd och strukturerad kurs. Därtill är den väldigt pedagogisk och lättförståelig. Även innehållet får toppbetyg. Jag är övertygad om att jag snart blir en stjärna på LinkedIn, något annat är otänkbart! Rekommenderas varmt. Tack Charlotte!"
Maria Wahlberg, hållbarhetsexpert

"Mycket bra och inspirerande kurs. Det är också mycket Charlotte som person som gör kursen så bra. Efter alla videos kan man nästan höra Charlottes röst för sig själv i huvudet. Jag tänker större, en sammanfattning av vad jag har gjort, min story och vad jag som person vill framåt. Jag har också gjort min profil mer unik utifrån mig."
Anette Wällstedt, kommunikatör 
"Jag kan varmt rekommendera Charlottes e-kurs. Varje avsnitt har varit väldigt inspirerande och jag har fått många nya idéer till min profil. Som nybliven företagare var det lärorikt och spännande att få ta del av alla insiktsfulla råd och tips. "Charlotte känns som en god vän som engagerar och peppar i lagom takt och på rätt nivå". Trodde först inte att jag kunde hitta nya kunder via Linkedin, men inser att det både är möjligt och nödvändigt att nå ut och synas. Mitt råd är - Gå kursen!"
A little more information about me, Charlotte Hågård, your course leader.
Your course leader is Charlotte Hågård, well-known LinkedIn and career expert and entrepreneur. Charlotte's LinkedIn tips have reached tens of thousands of people and in this e-course she has packaged her best advice and experience for you who want to succeed and achieve results on LinkedIn.
Charlotte has been a sought-after LinkedIn lecturer for several years, has authored 9 career books, 3 of which are about LinkedIn.
Together with her team, Charlotte has reviewed over 10,000 LinkedIn profiles, career and job coaching over 50,000 people and lectured on career development and personal branding to 100,000 people.
She is considered one of Sweden's best LinkedIn experts by LinkedIn Nordics, where in close cooperation with the Nordic LinkedIn office she receives early information about new functions and changes at LinkedIn.